Home | Cardiac Equipments
Cardiac Equipments
Magic R -12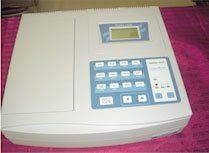 The cardiac activity creates electrical currents that spreads from the heart to the body. This ECG system can be detected and recorded the spreading electrical currents of heart through electrodes attached to the skin on various locations on the body. It is useful for the identification of disorders of the cardiac rhythm and the diagnosis of abnormalities on the cardiac activity.
The portable MAGIC - R12 is designed to record the standard 12-lead resting ECG with 12 or 6 channel format in automatic mode or 12 or 6-lead combination of the 12 leads in manual mode. Measurement, analysis and interpretation program acquires 10-second data of 12-lead ECG. The built-in thermal head printer with high accuracy printing speed ensures clear and reliable ECG trace outs on thermo-sensitive paper of letter-size paper width.
To display ECG signal, one or three of the 12-lead ECG can be displayed continuously on the black and white graphic LCD.
The MAGIC - R12 ECG system is operated by main AC 100-240V (∼50/60㎐) without additional adjustment, or by the built-in rechargeable battery which can be used for a limited time in place of AC power. To connect main AC power of ECG system to the portable multiple socket-outlet or distributor, do not place the multiple socket-outlet. The maximum operating power for the portable multiple socket-outlet must be minimum 250V 10A. The portable multiple socket-outlets can be connected to an AC power line, which is the part of other, approved electric devices.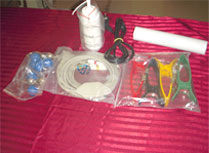 The fully charged battery is sufficient to ensure continuous recording for over one hour. As the battery is charged, there is an automatic LED indication of charging status as a result of built-in circuitry whenever the ECG system is plugged into an AC outlet. An alarm message for low battery level appears on the LCD when the ECG system is operating by battery. In order to save power and ensure safety, power automatically turns off after 5 minutes of complete inactivity in stand by mode.
If electrodes are off or the patient cable is connected improperly, an alarm message will appear on the LCD. The recording operation is stopped automatically if there is no paper in the printer. To ensure a clear and qualified ECG trace, a digital filter can be used to eliminate AC interference, muscle noise and drift wander. The interfaced graphic LCD will guide the user to operate the ECG system properly. Please read the operation manual thorough.
Magic R -1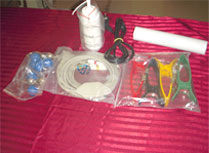 TECHNICAL SPECIFICATIONS
Technical Specs.

Magic RsA

Magic R

Magic Rs3

Magic Rx

Electrical
 
 
 
 
Power supply 
110VAC to 260 VAC 50-60 Hz
110VAC to 260 VAC 50-60 Hz
110VAC to 260 VAC 50-60 Hz
110VAC to 260 VAC 50-60 Hz
Power consumption
35 Watt
40 Watt
35 Watt
42 Watt
Leaking current
<20 µAmp
<20 µAmp
<20 µAmp
<20 µAmp
Time constant
<3.2 Sec
<3.2 Sec
<3.2 Sec
<3.2 Sec
Filters
Digital AC/50Hz
Digital AC/50Hz
Digital AC/50Hz
&Digital AC/50Hz
Inbuilt battery type
Li - ion
Li - ion
Li - ion
Li - ion
Battery rating
7.4 V/2000mAh
7.4 V/2000mAh
7.4 V/2000mAh
7.4 V/2000mAh
Recharging time
8 hours max
8 hours max
8 hours max
8 hours max
Operating time
> 50 ECGs/8 hours in standby
> 50 ECGs/8 hours in standby
> 50 ECGs/8 hours in standby
> 50 ECGs/8 hours in standby
Measuring parameters
 
 
 
 
Leads
12 standard leads
12 standard leads
12 standard leads
12 standard leads
Mode of Operation
Auto / Manual
Auto / Manual
Auto / Manual
Auto / Manual
Long lead print
No
Yes
No
Yes
ECG print style
1 lead
3 leads + long lead
1/2/3 leads
3 + long lead / 6 leads
Display lead
No
No
Yes
Yes
Frequency Response
0.05 to 125 Hz
0.05 to 125 Hz
0.05 to 125 Hz
0.05 to 125 Hz
Sweep Speed
12.5 / 25 / 50 mm/s
12.5 / 25 / 50 mm/s
12.5 / 25 / 50 mm/s
12.5 / 25 / 50 mm/s
Sensitivity
5 / 10 / 20 mm/mV
5 / 10 / 20 mm/mV
5 / 10 / 20 mm/mV
5 / 10 / 20 mm/mV
CMRR
> 90dB
> 90dB
> 90dB
> 90dB
Input impedance
> 100 ohms
> 100 ohms
> 100 ohms
> 100 ohms
Patient storage data
-
Last patient
Last patient
Latest 5 patients
Measurement
-
HR Axis & Interval
HR Axis & Interval
HR Axis Interval Average & voltage Measurements
Display type
-
-
LCD (70.00 mm * 40.00 mm)
LCD (70.00 mm * 40.00 mm)
Display resolution
-
-
64 * 128 Pixels
64 * 128 Pixels
Printer type
Thermal Array Recorder
Thermal Array Recorder
Thermal Array Recorder
Thermal Array Rec/Desk jet printer
Paper width
50 / 50 mm
108 mm
50 / 50 mm
108 mm
PC interface
No
No
Yes
Yes
Memory stick interface
No
No
No
Yes
Physical Characteristics
 
 
 
 
Weight
< 1.2Kg
< 1.2Kg
< 1.4Kg
< 1.5Kg
Dimensions
255 L * 180W * 70 H (mm)
255 L * 180W * 70 H (mm)
255 L * 180W * 70 H (mm)
255 L * 180W * 70 H (mm)
Operating Condition
 
 
 
 
Temperature
25 - 55' C
25 - 55' C
25 - 55' C
25 - 55' C
Pressure
50 - 160 Kpa
50 - 160 Kpa
50 160 Kpa
50 - 160 Kpa
Humidity
Upto 90% non - condensing
Upto 90% non-condensing
Upto 90% non - condensing
Upto 90% non - condensing
Storage & Transport Con.
 
 
 
 
Temperature
25 - 55' C
25 - 55' C
25 - 55' C
25 - 55' C
Pressure
50 - 160 Kpa
50 - 160 Kpa
50 - 160 Kpa
50 - 160 Kpa
Humidity
Upto 75% non - condensing
Upto 75% non - condensing
Upto 75% non - condensing
Upto 75% non - condensing
Sately standards : EN 60601 - 2, EN 60601 - 1 - 25
 
 
Defibrillator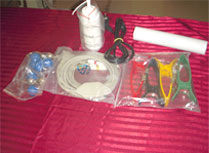 Technical specification
| | |
| --- | --- |
| Display | |
| Type | Color TFT Display |
| Size | 5.7" Diagonally |
| Resolution | 320x240 dots |
| ECG | |
| Channel | 3 channel |
| Electrode | 5 leads |
| ECG acquisition | Patient Cable and Paddles |
| Display | 2 waveforms with HR and joules selected |
| Lead | Lead I,II,III, aVr, a VI, aVf, V |
| Gain selection | 0.5,1,1.5 or 2 |
| Sweep  speeds |  12.5, 25 or 50mm/sec |
| Heart rate range | 20 – 250 bpm |
| Heart rate accuracy | +_ 2bpm |
| Frequency response | 0.05 to 40 Hz |
| CMRR | >100dB |
| Input impedance | » 100 M Ohms |
| Defibrillator |   |
| Maximum charging time to 360 joules | 10 second |
| Energy selection | 5, 7, 10, 20, 30, 50, 70, 100, 150, 200, 270, 310, 360 |
| Synchronous operation | YES |
| Recorder |   |
| Type | High resolution thermal array recorder |
| Printing speed | 25mm/sec |
| Details on print | HR, ECG w/ falong with energy delivery, Date, Time, Patient details (ID, name, age, sex), joules selected, Sweep speed and Gain |
| Electrical |   |
| Power input | AC 230V, 50 Hz |
| Inbuilt battery type | Lead Acid |
| Battery rating | 12V, 4 Ah |
| Charging  time | 5 hours |
| Operating time | 50+ shocks (360 joules) or 5 hours monitoring without printing |
| General | |
| Weight | 8 kg |
| Dimensions | 403x152x324mm |
| Working temperature and humidity | 0-40 deg.cel & up to 90% non condensing |